KUALA LUMPUR – Students in the primary and secondary schools will be following the home based teaching and learning (PdPR) two weeks after the Hari Raya Aidilfitri holidays until the semester break to reduce the risk of Covid-19 infection.
The PdPR will begin on 16 May for schools in Group A (Kelantan Johor Kedah and Terengganu) meanwhile, schools in Group B (Perlis, Perak, Pahang, Sabah, Labuan, Sarawak, Negeri Sembilan, Pulau Pinang, Selangor, Kuala Lumpur, Melaka and Putrajaya) will begin their PdPR session on 17 May.
The session will end for Group A on 27 May, meanwhile, schools in group B will resume back to school a day after that.
Minister of Education, Datuk Dr. Radzi Jidin said that the PdPR session is aimed at reducing the risk of infection which could happen outside the school during the festive season which could increase the infection rate in educational institutions under the Ministry of Education (MOE).
"In the context of implementing teaching and learning (PdP), the MOE is taking the approach of implement the PdPR for two weeks after the festive holiday," he said in his Facebook post today.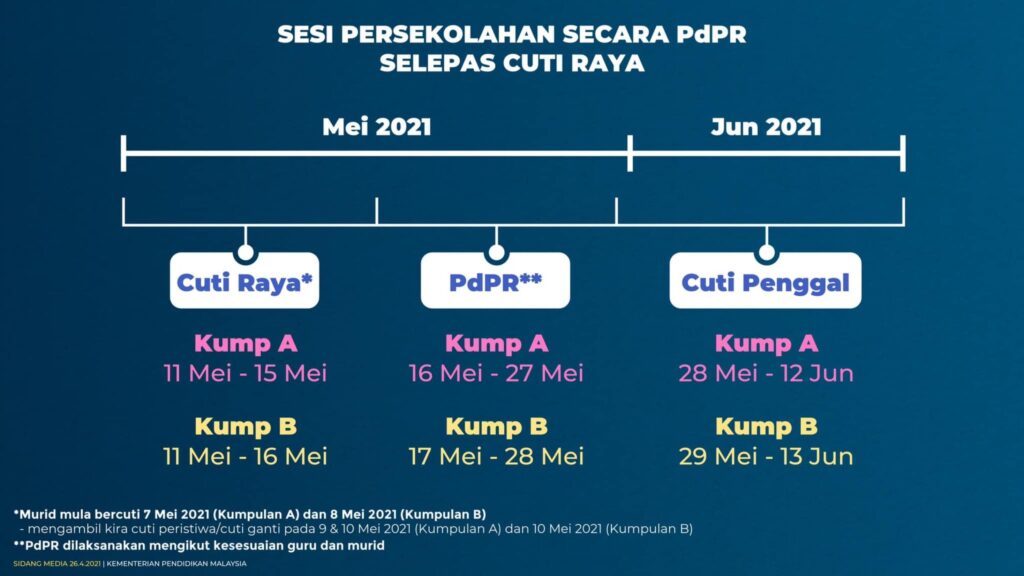 Meanwhile, Radzi said, the Aidilfitri holidays will begin on 11 May for Group A and B schools, where the schools in Group A would take event holiday or replacement holiday which would be replaced on 9 and 10 May 2021. Meanwhile, schools under Group B would take that leave on 10 May.
Following that, schools in Group A will start having their school break from 7 until 15 May, while schools in Group B will have their holidays from 8 until 16 May. –MalaysiaGazette
Read More:
MOE won't punish students who skip school due to concerns over Covid-19
259 Kelantan secondary school students tested Covid-19 positive between 3-16 April
Covid-19: 20 schools in Penang ordered close
Shut schools down first – PIBGN