SHAH ALAM – The manufacturing sector is not the main cause for the escalation of Covid-19 cases, thus, it is not appropriate for anyone to blame the sector for operating.
The Minister of International Trade and Industry (MITI), Datuk Seri Mohamed Azmin Ali said, based on the statistics and data from the Ministry of Health (MOH), 75 percent from the Covid-19 cases reported today are sporadic as the virus is already in the community.
"I want to take this opportunity to explain that from the statistics and data announced by the MOH, 75 percent from the positive cases today are sporadic.
"This means, the Covid-19 virus is already in the community. Only 25 percent came from various clusters, including, the work place clusters.
"Once again, the data supplied by the MOH proves that from the clusters that exist daily, some of them are from the manufacturing sector, but, the amount of positive cases recorded under the manufacturing sector is only between five to 10 percent," he said after visiting the vaccination centre at the Setia City Convention Centre today.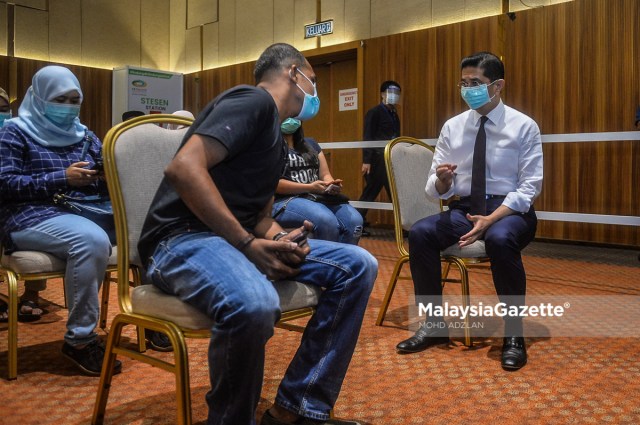 According to Mohamed Azmin, after receiving the data, they find that the cases involving economic clusters is small and the Covid-19 virus is already in the community, his ministry made the decision to allow the operation of several sectors.
He said, MITI has allowed some of the activities to operate especially those involving essential services to protect the economic welfare of the people.
"In addition, Malaysia is involved in various global supply chain and we do not want any disruption in food supply and basic necessities involving and public healthcare essentials such as sanitiser or pharmaceutical needs.
"When there are such activities, the possibility exists, however, the number is not as big as announced as the cases and virus is already sporadic, it is already in the community.
"Therefore, we invite everyone to come together in overcoming this pandemic by adhering to strict SOP such as social distancing, wearing face mask and not gathering in a huge crown as this would invite the infection of Covid-19, especially the new variants in the community," he said. –MalaysiaGazette
Read More:
Covid-19: Still recording over 5,000 cases