KUALA LUMPUR – Many people are still putting high hopes despite the government has sternly said that it would not allow the depositors to withdraw RM10,000 unconditionally from their Employees Provident Fund (EPF) Account 1.
Some depositors thought that former Prime Minister, Datuk Seri Najib Razak is their lifeline as he is one of the people who fought for the withdrawal after it was declined by the Prime Minister and Finance Minister.
Therefore, Azmi Mohd Tahir, who alleged that he is a contributor of EPF, submitted a memorandum and petition signed virtually by over 50,000 EPF contributors to Najib.
They, according to him, are confident that the Pekan Member of Parliament (MP) would continue to represent the people in demanding the government to allow the final EPF withdrawal like i-Citra earlier.
"During the 30 minutes meeting and submission of petition, he (Najib) agreed that he would help to deliver the demands to the PM.
"I would also like to deny the statement of Finance Minister (Datuk Seri Tengku Zafrul Abdul Aziz) who alleged that Najib was an instigator in the demands of EPF savings withdrawal.
"Najib is not a populist who fights for himself, but he fights for the demands he receives from the depositors. Most of the comments on Najib's social media pages are about the RM10,000 one-off withdrawal.
"I also told Najib to request the government not to impose any condition for the final RM10,000 withdrawal. For those with savings less than that amount, they may set the eligibility of withdrawal as in i-Sinar," he told the journalists when met.
Also present during the meeting was the Chairman of Malaysian Muslim Consumers Association (PPIM), Datuk Nadzim Johan.
Azmi said that the support from EPF contributors who needed the final withdrawal was getting higher and they have garnered 50,000 signatures virtually which was handed over to Najib at his office at Jalan Bukit Pantai, Bangsar this morning.
"He (Tengku Zafrul) has misunderstood this. Najib did not instigate and invite the contributors to come here. Denying the allegation, I, representing the contributors, hand this memorandum and petition to prove that the demand for the withdrawal is from the millions of contributors who are affected by the disasters.
"This EPF withdrawal does not only affect the flood victims in several states, but close to nine million depositors affected by the MCO (Movement Control Order) these two years.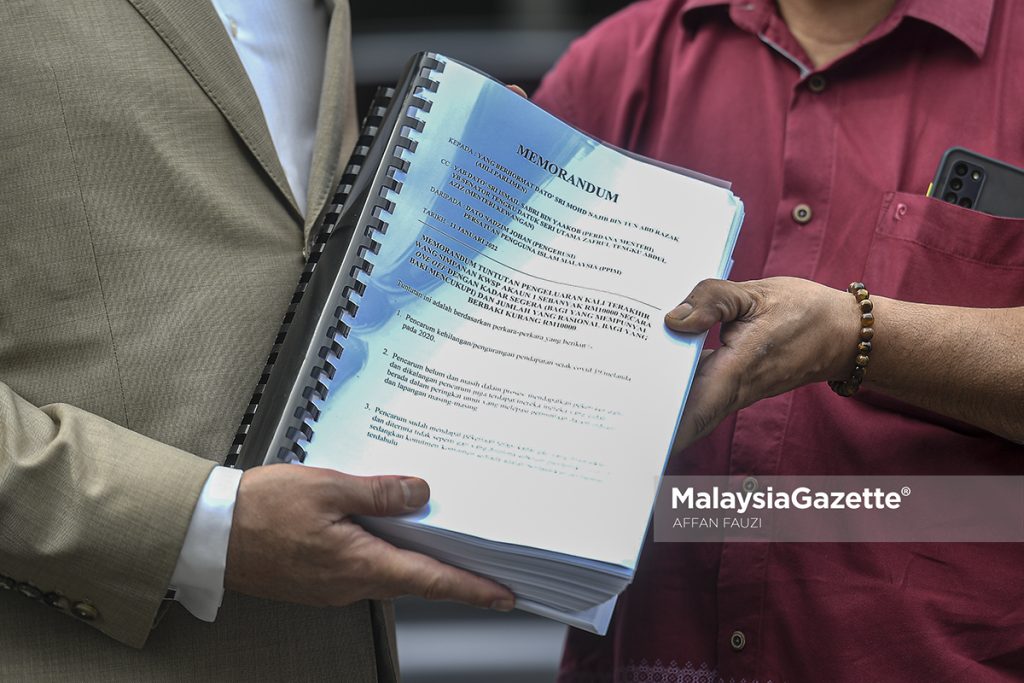 "Many have lost their jobs, experienced salary cut, many small and medium industry closed down. I hope that the Prime Minister (Datuk Seri Ismail Sabri Yaakob) would listen to the people affected by all these and allow us to withdraw our EPF savings," he said.
He also said that although some depositors have got new jobs but their payment rate could not match what they received pre-Covid-19 pandemic in 2019.
"They have huge commitments based on their salaries prior to the Covid-19 disaster such as business loans, housing loan, personal loan and other debts they need to pay now," he said.
Meanwhile, they also handed the memorandum of protest on the amendment of Act 342 on the increment of compound for individuals or companies that violate the standard operating procedures (SOP) to Najib. -MalaysiaGazette
Read More:
i-Citra cannot be the main plan to solve financial problem – Syed Saddiq
PM, don't listen to Finance Minister – Najib
i-Citra: I am not the Finance Minister – Najib