KAJANG – The police are hunting for Safiey Illias and the Instagram Account owner of SafieyIllias94 over the investigation of obscene post on Instagram with underage children.
The suspect, who was co-hosting the IG Live with 'pipinatasha' was wearing raunchy clothing and the live video was also being watched by two underage children with Instagram ID hadiff_othman07 and sy.ahrul5387.
The Kajang District Police Chief, Mohd Zaid Hassan said, the police had receive the report from a woman who is also a lecturer from Universiti Sains Islam Malaysia (USIM) at around 1.29 pm yesterday.
"At 9.00 am today (Wednesday), when the complainant (lecturer) was at her home in Bangi, she saw the Instagram Live link of 'safieyillias94', who was co-hosting with 'pipinatasha' and wearing a raunchy clothing.
"Police investigation found that the host was committing an action that could be classified as obscene communication and sexual grooming involving underage children.
"They also showed the action of vaping before those children," he said in a statement.
According to him, based on police report, the police are tracking down the suspect.
The police also requested for anyone with information on the incident or suspect to contact their nearest police station, or the Kajang Police Headquarters.
"The police have opened an investigation paper and we are increasing our efforts in hunting down the suspect, Safiey Illias to assist in our investigation.
"The case is classified under Section 12(1) of the Sexual Offences against Children Act 2017 (Act 792) and Section 233 of the Communications and Multimedia Act 1998," he said.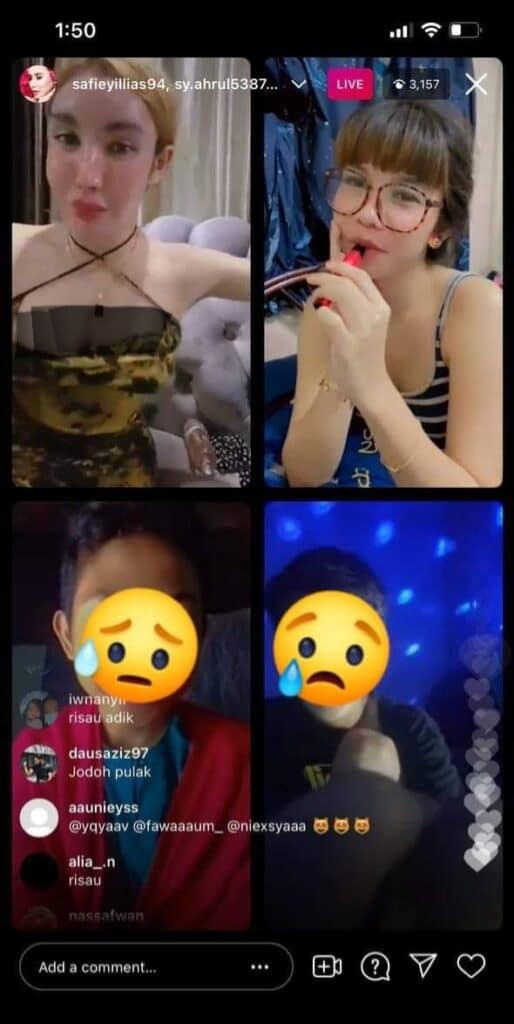 Last Wednesday, MalaysiaGazette reported that Dr. Rafidah Hanim Mokhtar had lodged a police report after noticing a viral obscene Instagram Live video.
The police report was aimed to push the authority to take immediate actions against the instafamous as she had allegedly acted beyond the limit by using underage children.
"I think that we have been tolerating too much with the instafamous.
"Dear parents, this incident happened at 1.50 am. Children are not supposed to be using their handphones at that hour and to view or be involved with such IGLive," she said. –MalaysiaGazette