KUALA LUMPUR – A girl with down syndrome is suspected to be abused at the charity home located in a condominium in Wangsa Maju where she has been residing since a year ago.
The Kuala Lumpur Criminal Investigation Department Chief, Senior Assistant Commissioner Saiful Annuar Yusof said, the suspect has been arrested to assist in police investigation.
"On 24 June at around 6.30 pm, the police received a report on the abuse case towards a 13-year-old girl with Down Syndrome.
"The victim lives in that unit since 14 July 2020. Examination on the victim found burn marks on her chest, arms, neck, thighs among other bruises.
"The victim was sent to the Kuala Lumpur Hospital and the doctor verified that the victim sustained injuries and she is also tested positive for Covid-19," he said in a statement today.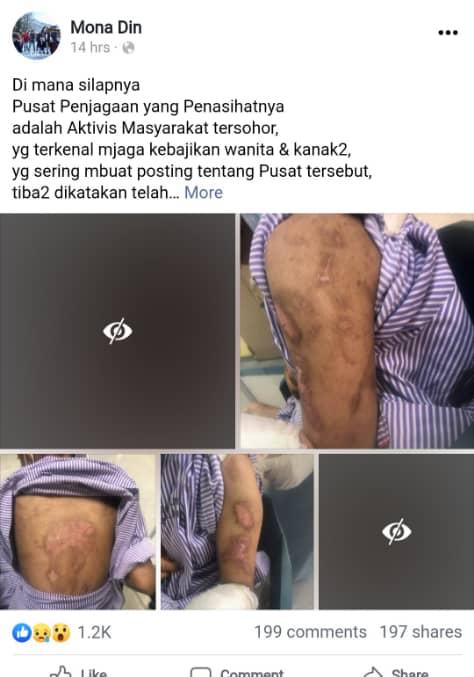 According to Saiful Annuar, investigation found that the six other children are staying at the condominium where two of them aged two-years-old and have Down Syndrome.
According to Saiful Annuar, all other children did not show any injuries but all of them were tested positive of Covid-19.
"The police will continue with the investigation after all witnesses (children) have completed their quarantine as determined by the Ministry of Health (MOH).
"The 28-year-old Malay caregiver at the residential unit is investigated under Section 31(1)(a) of the Child Act 2001 for abuse, neglect, abandon or expose the child in a manner likely to cause him/her physical or emotional injury.
"Upon conviction, she could be fined not exceeding RM50,000 or imprisonment for a term not exceeding 20 years or both," he said.
Earlier, a picture of the abuse went viral in the social media.
A Facebook used shared the picture of the injuries on the victim and alleged that the 13-year-old girl is adopted by a non-government-organisation (NGO) in the capital city.
"Recently, I was told that the owner, caregiver and several residents of the charity home have been infected by Covid-19.
"The name list of the residents has been submitted to the Ministry of Health (MOH) for further action, however, the girl's name was not included in the list to mask the abuse," said the netizen. –MalaysiaGazette