KUALA LUMPUR – Actor, Zul Ariffin is currently facing action from the Ministry of Communications and Multimedia (K-KOMM).
Its Minister, Tan Sri Annuar Musa said that legal processes against the actor is ongoing.
"Zul Ariffin will be investigated under Section 233 of the KMM Act for offensive posting. The scene he posted was unsuitable for viewing in Ramadan or any other month.
"Protect the values and culture," he Twitted today.
Section 233 of the KKM Act encompasses of the improper use of network facilities or network service, for knowingly making, creating, soliciting and initiates the transmission of any comment, request suggestion or other communication which is obscene, indecent, false, menacing or offensive in character with intent to annoy, abuse, threaten or harass another person, or, using network services or application service to provide obscene communication for commercial purposes to any person.
Upon conviction, he would be liable to a fine not exceeding RM50,000 or imprisoned for a period of not more than a year or both.
Last Friday, Zul Ariffin or his real name, Zulkifli Ariffin, 35, uploaded a video on his Instagram account to promote his drama, Perempuan Itu that will be aired in Ramadan.
His action invited a lot of criticisms from his followers who likened the scene to porn after seeing Zul Ariffin making out with another actress.
Following that, the Department of Islamic Development Malaysia (JAKIM) will also summon the production of the drama, including its main casts, Zul Ariffin and Siti Hariesa for explanation.
Deputy Minister at Prime Minister's Department (Religious Affair), Datuk Ahmad Marzuk Shaary said that the ministry will be holding a discussion with K-KOMM to discuss about the drama produced by the production house.
Meanwhile, Zul Ariffin, in his Instagram Story issued an apology over the video yesterday.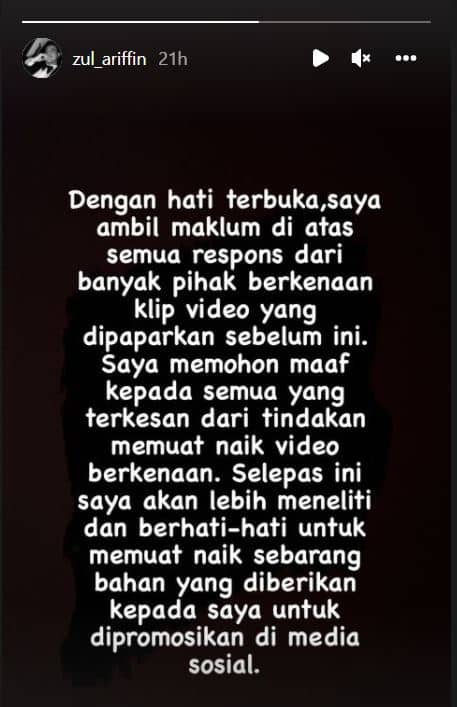 "With an open heart, I take note of all responses on the video clip.
"I humbly apologise to all affected by my action of uploading the video," he wrote. -MalaysiaGazette