GEORGE TOWN – The two policemen who harassed women during roadblocks have been ordered to do desk job.
The Bukit Aman Integrity and Standard Compliance Department (JIPS) Director, Datuk Zamri Yahya said that the policemen from Penang and Kuala Lumpur will be doing desk jobs while waiting for the investigation to complete.
"Those who are involved in harassing women are not suspended but they are ordered to do desk job.
"This is the preliminary action taken by the police while further investigation is ongoing against them. Disciplinary actions will be taken based on the result of investigation," he said when contacted by MalaysiaGazette today.
On the same development, Zamri said that the JIPS has recorded statements from the two women who alleged that they were harassed by the police during roadblocks.
"We wished to get a clearer picture of what actually happened and the investigation is conducted thoroughly and transparently," he said.
Earlier, MalaysiaGazette reported that two women had uploaded a status in their respective social media accounts alleging that they have been sexually harassed by policemen during roadblocks.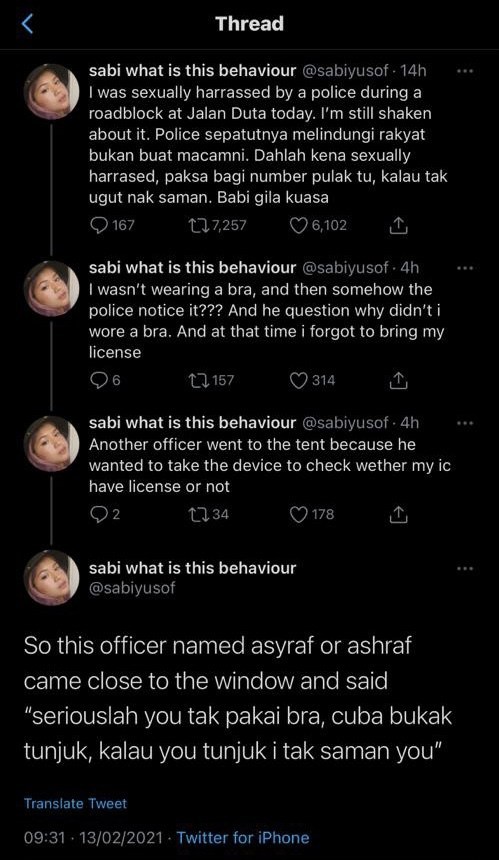 The incident allegedly happened after a policeman requested a 23 year-old woman to show her boobs as she was not wearing bra happened at the Jalan Duta roadblock. In Penang, a policeman requested for the phone number of a woman during a roadblock before harassing her with private messages. –MalaysiaGazette
Read More:
Bukit Aman siasat dakwaan mangsa gangguan seksual masa SJR
AWAN Amanah gesa polis siasat secara telus dua kes gangguan seksual
Dakwaan gangguan seksual cemar imej polis – Guan Eng
Siasat segera dakwaan gangguan seksual terhadap wanita  Rina Harun