PUTRAJAYA – The Court of Appeal begins its hearing on the bid by former Prime Minister, Datuk Seri Najib Razak to set aside his conviction on his corruption charges linked to SRC International Sdn Bhd for funds amounting to RM42 million.
The case was expected to begin at 9.40 am after his defence counsel, Tan Sri Muhammad Shafee Abdullah had to go back to get the documents of the case.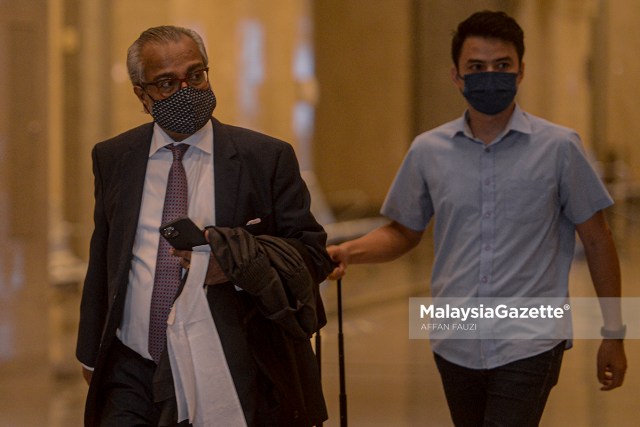 His appeal was supposed to be heard on 15 February but it was replaced with a new date following the recent Movement Control Order (MCO).
International and local media crowded the compound of the Palace of Justice. Nevertheless, only media that had registered last week were allowed to enter. Besides that, each agency could only be represented by three individuals.
Those who have obtained the approval to cover the case were placed at the conference room of the Palace of Justice and the proceedings from the Court of Appeal 3 would be broadcasted love through video conference in the room.
Meanwhile, the panel of judges, prosecution and defence team, Najib and several staff of the court were allowed into the court.
The situation was under control as the attendees have been pre-determined since last week in respect of the Covid-19 pandemic guidelines.
Najib, who is also the Member of Parliament of Pekan appeared composed in his brown coat. He arrived at 8.55 am and smiled to the media representatives waiting for him.
The court fixed 12 days for the hearing of his appeal from 5 until 8 April, 12 until 15 April and 19 until 22 April.
On 30 July last year, Najib filed an appeal to set aside the sentence given by High Court Judge, Mohd Nazlan Mohd Ghazali after he was found guilty on seven counts of criminal breach of trust, money laundering and power abuse involving RM42 million belonging to SRC International.
In his appeal petition filed on 19 October last year, Najib presented 307 reasons to support his plea, stating that the High Court had erred by finding him guilty.
Among the arguments he presented were the judge has made a mistake by failing to consider that fugitive businessman, Low Taek Jho or Jho Low was the actual mastermind in his case.
He was then sentenced to a total of 12 years in prison and RM210 million in fine, in default, five years of prison after being found guilty of criminal breach of trust, power abuse and money laundering.
He was released on RM2 million bail with two surety while waiting for his appeal. –MalaysiaGazette