KUALA LUMPUR – Political party leaders arrived at Istana Negara this afternoon to have an audience with Yang di-Pertuan Agong, Al-Sultan Abdullah Ri'ayatuddin Al-Mustafa Billah Shah at 2.00 pm.
The President of Parti Pejuang Tanahair (Pejuang), Datuk Seri Mukhriz Mahathir was the first person to arrive at Gate 2 of Istana Negara. Chauffeured by a black Vellfire, he entered the compound of Istana Negara at 1.52 pm.
The President of UMNO, Datuk Seri Ahmad Zahid Hamidi arrived 2 minutes later.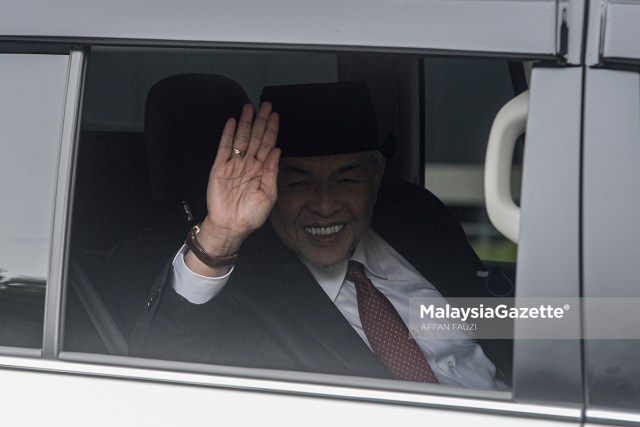 Ahmad Zahid managed to lower the windows of his Toyota Landcruiser and waved to media practitioners as he entered the palace.
Several Pakatan Harapan (PH) leaders arrived at 2.00 pm sharp, including the Secretary-General of DAP Lim Guan Eng and the President of Parti Amanah Negara (Amanah) Mohamad Sabu.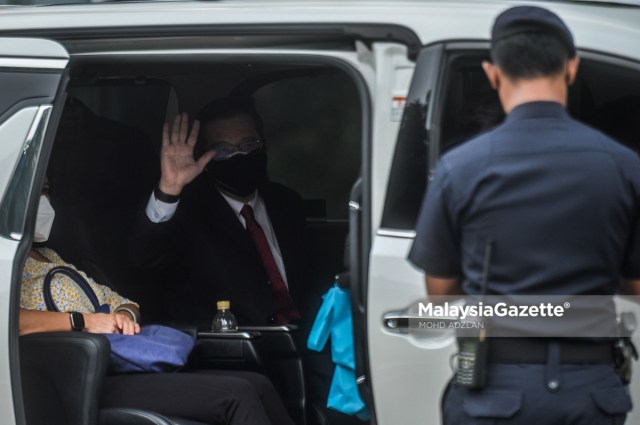 Opposition Chief cum the President of PKR, Datuk Seri Anwar Ibrahim also entered the Istana Negara.
Anwar was the last to arrive at Istana Negara in his black Lexus.
Media practitioners started flocking Gate 2 of Istana Negara as early as 11.00 am today to do the coverage of this event.
The audience with the Agong is held following Tan Sri Muhyiddin Yassin's resignation as the Prime Minister yesterday after leading the Perikatan Nasional (PN) government for merely 17 months. –MalaysiaGazette
Read More:
Speaker requests MPs to nominate a PM
May new PM be appointed according to Constitution – Muhyiddin
Resignation will not disrupt vaccination programme – Muhyiddin
Agong accepts Muhyiddin, Cabinet's resignation, appoints Muhyiddin as caretaker PM
Cabinet resignation: Collective responsibility, not guilt – Takiyuddin
Annuar apologises, pray for wellbeing of residents in Federal Territories
Cabinet resigns, God bless Malaysia – KJ
UMNO Youth suggests for Interim Unity Government
Muhyiddin expected to make special announcement today
No MP has the majority support – Muhyiddin
Muhyiddin still commands majority support, no reason to resign
Muhyiddin ready to face any possibility in Dewan Rakyat this September
31 BN MPs maintain support for PN – Ismail Sabri
They're displeased with my refusal to meddle with court decision – PM
Muhyiddin loses majority – Zahid