KUALA LUMPUR – Frequently abused, an 11 year-old boy is also forced to be child labour at an animal farm in Banting.
That is the fate of an unfortunate child after he was being 'taken care' by his biological father and stepmother at the Air Panas PPR in Setapak after his mother passed away three years ago.
The victim is also not allowed to attend his school sessions at Segambut after his mother passed away due to chronic diabetes since January 2018.
MalaysiaGazette met the victim along with his aunt today and revealed the nightmare he experienced for the past three years.
"Along with me, nine other children of my age were forced to work in the childcare home located deep in the forest of Banting. However, six children have left that place except for us.
"We were forced to wake up early, clean the kitchen and we also had to clean the cow barn, goat barn among others. We also need to feed those animals.
"We were given food during work, meanwhile at night, we need to give food massage to the owner of the childcare home before going into our bedroom," he said.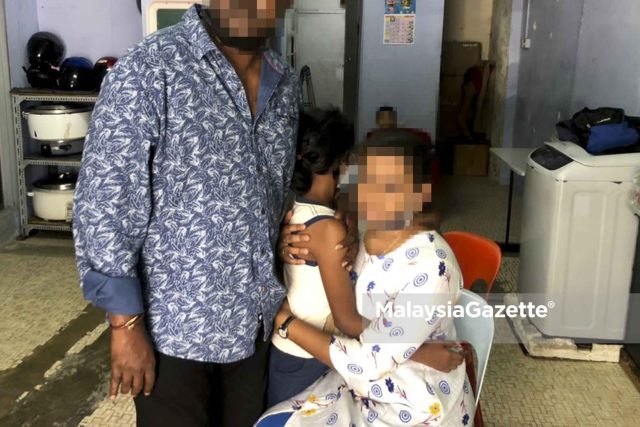 Traumatised, the boy confessed that he was kicked and punched by his father and stepmother since he was eight years old.
His aunt who, Vickneswari said that after her sister passed away, the two suspects took care of that boy for one month.
She said, the victim was then sent to the first childcare home in Setapak by his father before her husband and her took the victim in.
After a month, the suspect took the victim from her and sent the boy to a childcare home to the second childcare home, who is a friend of his 'second wife' in the rural area of Banting.
She said, since the demise of the boy's mother, the victim was not sent to school. He was kicked and punched by his stepmother almost every day at their home in Desa Rejang PPR. He was also shaved bald and pinched with chilli and salt. His body was filled with bruises and injuries.
Sadly, Vickneswari alleged that the victim's father also abetted his new wife in abusing the victim. He totally ignored that his son was experiencing physical and mental trauma.
On October 2020, he said that the victim was once again taken away by his father and stepmother, before they sent him off to another temporary childcare home owned by a teacher, who is also the family's close friend.
Unfortunately, the victim went through a tough ordeal as his stepmother would kick him in his tummy each time she received a complaint from that teacher who was caring for him.
"He could not stand the abuse, the victim braved himself, took the house key when the woman was sleeping in her room, opened the main door, ran away to save himself.
"He ran away from his home at around 4.00 pm and walked for about 1.5 kilometres before he arrived at my place at the Seri Semarak PPR in Air Panas around 5.00 pm.
"We were shocked when the victim knocked on our door. He hugged us tightly and cried. He asked us to save him from his stepmother and father," she sobbed.
Therefore, Vickneswari and her husband decided to take care and protect their nephew to ensure his future and education.
To avoid his life from being threatened by his father and stepmother, they decided to lodge a police report at the Sentul Police Station and wanted the authorities to take stern actions by arresting the two individuals.
They also suspected that the mysterious childcare home in Banting has been operating illegally and abused human rights by exploiting children, turning them into forced labour.
The victim was brought to the Kuala Lumpur Hospital for medical examinations. –MalaysiaGazette
Read More:
Suspects of Amir's murder, abuse plead not guilty