KUALA LUMPUR – Rumah Prihatin @ Grand Seasons Kuala Lumpur rubbished claims that they are selling Covid-19 vaccination appointment slots to foreigners.
The allegation emerged after a video showing long crowd of people including foreigners queuing up to get their walk-in vaccine yesterday.
Its Deputy Executive Director, Datuk Mohd Irwan Rizal Mohd Ali Napiah said that there is no vaccination appointment slot sales at Rumah Prihatin as it has tight screening process on each individual present to get their Covid-19 vaccine shot.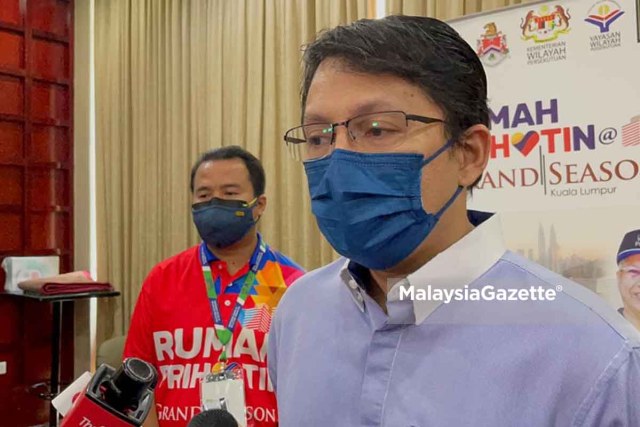 "Perhaps, what happened out there was beyond our control but internally, we have tight control. There is no such action here.
"Perhaps, there are scams out there and recently, some irresponsible quarters are selling digital vaccination certification and printing them," he said when met at Rumah Prihatin today.
Commenting on the viral video footage yesterday, Mohd Irwan said that the long queue of people was spotted between 7.00 – 8.00 am yesterday along the walkway towards the hotel.
He said, however, the fast action of the police and enforcers from the Kuala Lumpur City Hall (DBKL) managed to disband the people, including foreigners in that area.
"We got great cooperation from the police and DBKL to control the crowd here in the form standard operating procedures (SOP) compliance. It was only yesterday, the sudden emergence or a huge crowd but the fast action from the police managed to ease the situation.
"Perhaps there were misunderstandings among the foreigners yesterday. Perhaps they think that all vaccination centres (PPV) provide walk-in vaccination, that's why they gathered here early in the morning.
"We saw in the video, there were many of them. Our respond is that we can see that these foreigners really need vaccine," he said.
Meanwhile, Mohd Irwan also said that Rumah Prihatin is always upgrading its operation if any issue arises.
He said, the centre would also look into increasing the number of people on duty and volunteers at the charity hotel.
"At the moment, there are about 100 to 150 personnel including volunteers on duty at a time. We hold discussion each day to improve our operation to overcome any rising issues," he said.
He also added that the Rumah Prihatin vaccination programme provides 600 doses each day on average earlier and it has now reached 2,000 doses per day.
Meanwhile, an observation by MalaysiaGazette found that there was no congestion or people mass crowding the Rumah Prihatin at Jalan Pahang today.
We were told that only individuals with second dose vaccine appointment are allowed to enter the premise.
We also saw several police patrol vehicles at the area with the help of DBKL enforcers.
Yesterday, a 7 minute 15 seconds video showing foreigners swarming Rumah Prihatin @ Grand Seasons Hotel went viral in the social media. –MalaysiaGazette