KUALA LUMPUR – The Covid-19 vaccination status in MySejahtera for Sinovac recipients who did not get their booster dose by 1 April will only turn incomplete and not wiped out from the system.
The Ministry of Health (MOH) reiterated the matter in a statement today to refute a viral social media message.
The message that was widely distributed in the social media alleged that the government will be wiping out the vaccination certificates of 2 million individuals who refused to get their Covid-19 booster dose.
Besides that, the message also alleged that the situation may also happen to people who have taken their booster dose. Therefore, the people are advised to take a screenshot of their digital cert for safekeeping.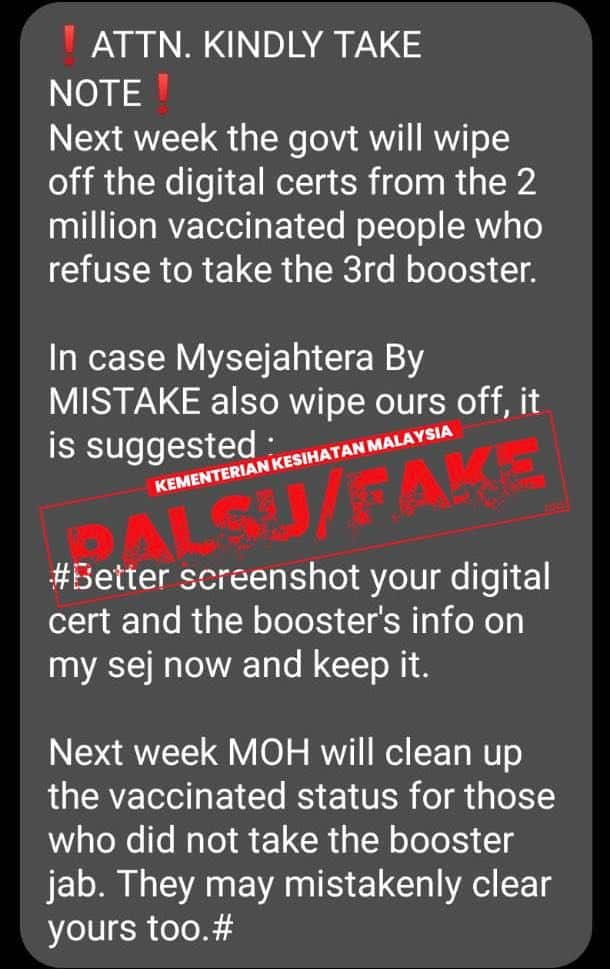 According to the MOH, the information contained in the message was fake and the Covid-19 vaccination of all Sinovac recipients aged 18 and above who have not received their booster dose would turn incomplete instead of being wiped out from the system.
The similar would happen to all types of vaccine recipients of primer dose aged 60 years and above who have not got their booster dose.
Recently, Health Minister Khairy Jamaluddin Abu Bakar said that 2.09 million Sinovac recipients are at risk of losing their fully vaccinated status in their MySejahtera on 1 April as they have not received their booster dose. -MalaysiaGazette
Read More:
Without booster dose, vaccination status of senior citizens will turn white
Booster dose deadline extension until 31 March nothing to do with Johor election