KUALA LUMPUR – The case where a man was shot dead in a hotel room at Bukit Bintang on Monday (2 May) has been solved with the arrest of two other suspects in Puchong yesterday evening.
The police arrested a 49-year-old main suspect on the night of the shooting at the hotel and he is currently under remand until 9 May.
The Kuala Lumpur District Police Chief, Datuk Azmi Abu Kassim said, preliminary police investigation found that the case was related to drugs.
"On 4 May 2022, 8.40 pm, two local men aged 47 and 51 years old who are believed to be involved with the case were arrested in Puchong.
"From this arrest, we successfully found and seized a .38 Revolver pistols and six bullets and a semi-auto Baretta gun with eight bullets and one bullet magazine," he said in a news conference at the Kuala Lumpur Police Contingent Headquarters (IPK KL) today.
The police also seized a red RS150 motorcycle, two helmets, three handphones and a suitcase.
The two men are on remand from today.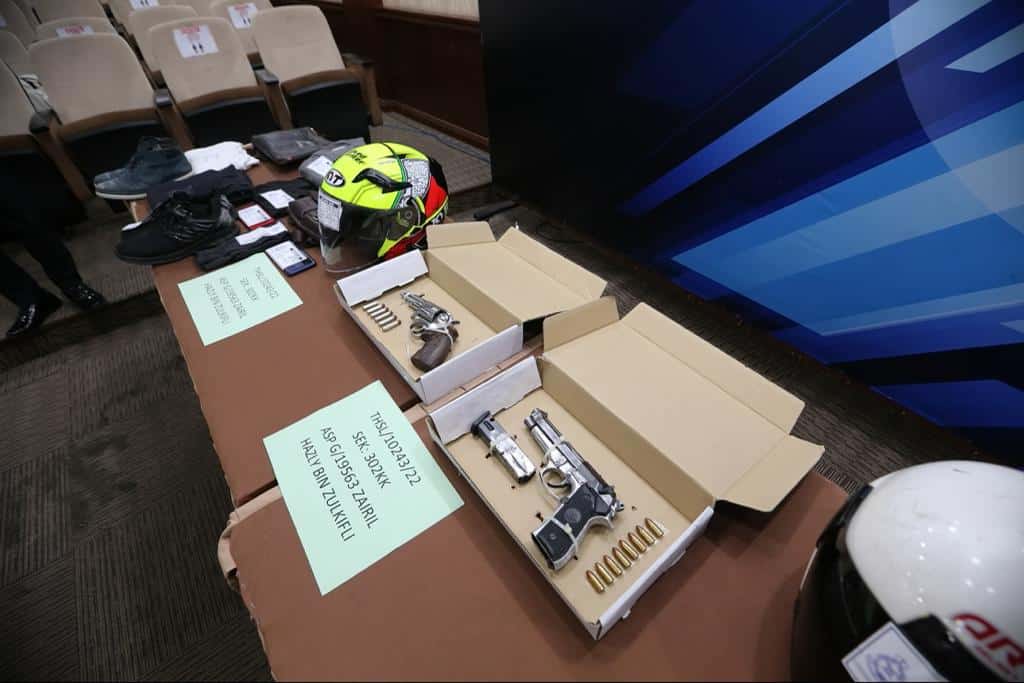 "With this arrest and findings, the police believe that we have solved the murder case," he said.
MalaysiaGazette reported earlier that the body of a 49-year-old man was found in a hotel room at Bukit Bintang with gun shot on his forehead at 7.00 pm on Monday.
The police found that the victim checked into the hotel at around 6.00 pm with his male friend.
Preliminary report said that they were from Johor, however, the police were investigating the purpose of their visit to Kuala Lumpur.
The case is investigated under Section 302 of the Penal Code.
Meanwhile, Azmi said that the victim had 13 previous criminal records, mostly related to drugs and one of them was related to a murder case and also abduction.
"The main suspect has seven previous records involving drug offences. The victim and the main suspect came from the same address in Johor, meanwhile, the two others are from Kuala Lumpur.
"From the early investigation, we found that all suspects were in the hotel room before the shooting happened. The police believed that they met over drug dealings," he said. -MalaysiaGazette
Read More:
Bukit Bintang hotel shooting: Police hunt for 2 other suspects